In a vision in 1997, I saw a mammoth crowd of people with unlit candles running towards the middle of a large field, it was dark and nobody could continue running except with light.
But in the middle of the field was a huge suspended ball of fire which was not within the reach of the people. The people gathered at the middle of the field, stretching their candles upwards, desperately wanting to light them, but could not. Then a clear voice said to me: "you are to make the fire come down so these people can light their candles".
As I prayed and thought about the vision, God said to me:" Go, take my healing power to your generation and raise passionate godly leaders who will heal the nation".
Taking God's healing power to this generation, and raising Godly and passionate Leaders.
The vision is achieved through the following Arms.
The vision is achieved through the following Arms.
The vision is achieved through the following arms.
Flames of fire conference (FOF):
Where people are reignited with passion to do kingdom mandate.
Eteam leadership college (ELCOL):
Where we create impactful and purposeful leadership in institutions and organizations.
Realities of Life (ROL):
Where we create a healthy image in people by binding the broken hearts and lifting the downcast in spirit.
The Royal Priest (RP):
Where people who offer spiritual services to God through songs are trained.
The Potter's Wheel International Christian Center (TPWICC):
Where the called of God are thoroughly equipped.
TPWICC is the church arm of E-team with the mandate of making men kingdom citizens.
Healing Experience:
Where people, relive the awesome healing atmosphere of God's presence.
Kings in the Cradle (KIC):
Where children are set on the right path and their talents harnessed.
Teens Alive (TEAL):
Where teenagers are trained, equipped and guided in their choices.
Chijioke Chukwuemeka (CeCe) Ekwuagana is a seasoned preacher and teacher of God's word and a leadership expert. He is the President of Evangelistic Team (E-TEAM) International and the Chancellor of the prestigious E-TEAM Leadership College (ELCOL). He is also a Chief Medical Laboratory Scientist at Nnamdi Azikiwe University Medical Center. He and his lovely wife, Ebele Ekwuagana (EbCe) are the Senior Pastors of The Potters Wheel International Christian Centre (TPWICC) with its headquarter in Awka and branches across the nation. They are blessed with 3 lovely children.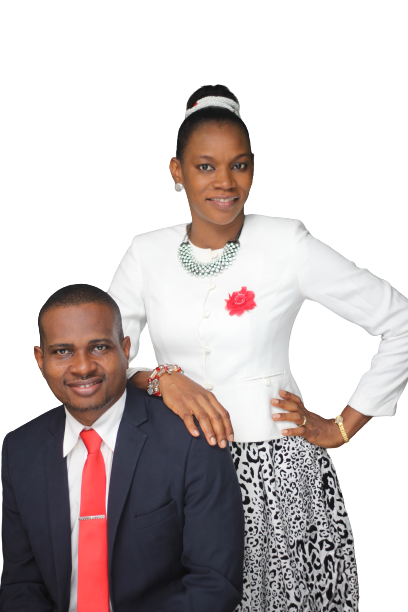 Ebele 'EbCe' Ekwuagana is a human capital developer, an On Air Personality (OAP), medical laboratory scientist and administrator. She and her husband are the Senior Pastors of The Potters Wheel International Christian Centre, a growing and vibrant church located in the Awka Metropolis . An ardent and passionate proponent of human capital development, An On Air Personality, she hosts the weekly broadcasts, Ladies Circle on Unizik   94.1FM  and Realities of Life on Anchor FM. She is also the Pro Chancellor of the prestigious Eteam Leadership College. She is very happily married with three children